BEST PRICE ON SIGNS,
WE GUARANTEE IT!!!
We believe we have the BEST prices on signs on the internet. If you find a lower price, we will give you our Apple-To-Apples Guarantee. We will match any other sign companies out-the-door price*, plus an additional 2% discount!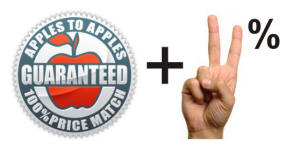 *CLICK HERE FOR THE DETAILS
This goes for almost every product we offer.
(YARD SIGNS, BANNERS, CAR MAGNETICS, STICKERS, BUTTONS, AND T-SHIRTS)

CLICK HERE FOR SHORTCUT
TO SIGN PRICES,

Do you think you have a better quote?
There are a lot of variables to getting a correct quote. There is a difference in seeing a price online and getting a SOLID, out the door price!
We'll match the best price you get and beat it by 2% more!!!